AccuBiotic® Synbiotic
$49.99
$44.99
Comprehensive, Once-Daily Probiotic + Prebiotic Combination for Synergistic Microbiome Support
50 Billion CFU Per Capsule
Includes Sunfiber®, a water-soluble prebiotic fiber that is Monash University low-FODMAP Certified™
Convenient For Use At Home or On The Go
FREE Shipping on ALL Orders.
Same Day Shipping
Most orders placed before 4 PM EST will ship the same day.
Orders are processed and shipped Monday - Friday, excluding holidays.
Shipping Carriers
Orders are shipped via USPS (free shipping) or UPS (expedited shipping).
Standard Delivery Time
Most orders placed with free shipping are delivered within 2-4 business days. Some exceptions may apply.
Expedited Delivery Options
UPS 2nd Day Air and Next Day Air are available at an additional charge. Charges vary depending on shipping location.
Shipping Destinations
We ship to all 50 US states. Sorry, we do not ship internationally.
Tracking Information
After you place an order, you will receive a confirmation email. Once your order ships, you will receive another email with a link to track your order.
Do you ship with an ice pack?
AccuBiotic® is shelf-stable, meaning it does not require refrigeration. Therefore, an ice pack is not included with the shipment. The capsules are enclosed in a moisture resistant and desiccant lined bottle to further enhance the survivability of the strains. There is no need to worry if the bottle is warm or hot to the touch when received, we just recommend waiting until it returns to room temperature before opening.
7 Probiotics
+
1 Prebiotic
=
AccuBiotic® Synbiotic
7 Targeted Probiotic Strains to Support Healthy:
Digestive Comfort & Function*
Inflammation Modulation*
Immune Function*
Microbiome Flora*
Microbiome Balance
After Antibiotic Therapy*
Respiratory Function*
A Low-FODMAP
Certified™ Prebiotic
Suitable for
Even the Most
Sensitive Individuals*
Helps Regulate
Occasional Diarrhea
and Constipation*
Shelf Stable
The probiotic strains in AccuBiotic® are formulated to survive without refrigeration.
A specialized desiccant-lined bottle helps to block light and moisture, further enhancing the survivability of the strains.

Delayed Release Capsules
In order for probiotics to be most effective, they need to efficiently pass through the acid in the stomach and reach the intestines. AccuBiotic® utilizes a delayed-release capsule that has been scientifically shown to enhance the survivability of probiotics and to deliver them effectively to the intestines.

Low-FODMAP Certified™ Prebiotic
Many probiotic supplements now include a prebiotic, but the type of prebiotic used is important. AccuBiotic® contains the prebiotic Sunfiber®. Unlike many commonly used prebiotics, Sunfiber® is not starch or sugar-based, and it's the first fiber to become low-FODMAP certified™.

FODMAPs are a group of dietary sugars that are not easily digested and, in sensitive individuals, can cause GI discomfort. By using Sunfiber®, which has been shown to help regulate occasional diarrhea and constipation, AccuBiotic® is suitable for both the healthiest and most sensitive individuals.*
Footnotes
Sunfiber® is a registered trademark of Taiyo International, Inc.
Monash University Low-FODMAP Certified™ is a registered trademark of Monash University, Australia.
"Frequently Asked Questions." Sunfiber, 14 Sept. 2020 https://sunfiber.com/frequently-asked-questions/

Supplement Facts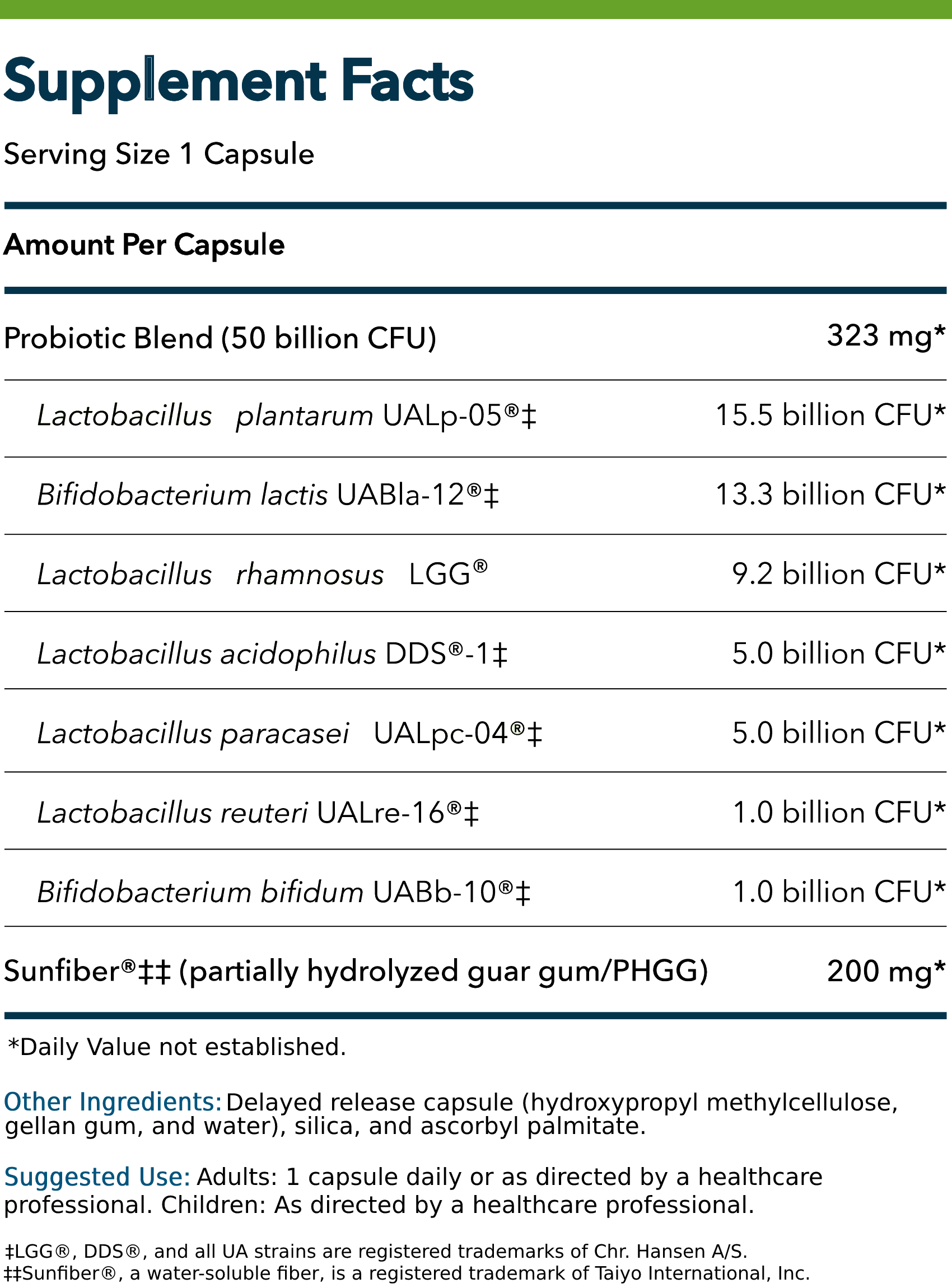 Other Ingredients:
Delayed release capsule (hydroxypropyl methylcellulose, gellan gum, and water), silica, and ascorbyl palmitate.

Caution:
If you are pregnant, nursing, have a medical condition, or taking prescription drugs, consult your physician before using this product. KEEP OUT OF REACH OF CHILDREN.

Suggested Use:
Adults: 1 capsule daily or as directed by a healthcare professional.

Free of the following common allergens:
Milk/casein, eggs, fish, shellfish, tree nuts, peanuts, wheat, gluten and soybeans. Contains no artificial colors, flavors, or preservatives.
FAQs
What is AccuBiotic®? What is a synbiotic?

AccuBiotic® is a once-daily synbiotic that helps to support digestive and immune health.*

A synbiotic is a combination consisting of both a prebiotic and probiotic. You can think of probiotics as seeds and prebiotics as fertilizer, prebiotics fuel probiotic growth.

Why AccuBiotic®?

AccuBiotic® is shelf-stable, utilizes delayed-release capsules, and contains a Low-FODMAP Certified™ Prebiotic. It is 3rd Party Tested, Vegetarian, Non-GMO, Hypoallergenic, and manufactured in a GMP-compliant facility in the US.

AccuBiotic® contains three clinically proven strains that support healthy digestion, GI comfort, and immune function*:


Many other probiotics do not contain clinically researched strains. LGG® is the world's most documented probiotic strain being used worldwide since 1990.

DDS-1®, UABla-12™, and LGG® are registered trademarks of Chr. Hansen A/S.

Who is AccuBiotic® for?

AccuBiotic® is intended for adults ages 18+

When will I notice a difference?

It takes time to rid the gut of bad bacteria, to restore the gut with healthy bacteria, and to reduce inflammation. In reviewing the scientific studies of probiotic strains, many of these studies are conducted over approximately 8–12-week periods. The reason why studies are performed over several weeks (as opposed to days) is because it takes time to restore normal gut flora. Depending on the condition of your GI tract, it may take a month or two to see improvement. However, some people may notice a change in as little as a few days to a week.

Does AccuBiotic® need to be refrigerated?

No, AccuBiotic® is shelf-stable meaning that no refrigeration is required.